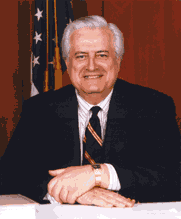 Former U.S. Representative Henry J. Hyde (R., Ill.),


died in his sleep at age 83 in the early morning Thursday, November 29, 2007, at Rush University Medical Center in Chicago.



We at FEAR will dearly miss this courageous, powerful man who made clear exactly "what is at stake in the issues surrounding civil forfeiture law: no less than the most fundamental rights American citizens have always cherished, but too often taken for granted."

Henry Hyde retired from Congress in January after spending three decades as a moving force on Capital Hill. Representative Hyde sponsored our nation's only federal forfeiture law reform, the Civil Asset Forfeiture Reform Act of 2000 (CAFRA). The powerful chairman of the House Judiciary Committee, waged "a war of attrition with the Department of Justice and local law-enforcement authorities" to get CAFRA enacted – the culmination of his seven-year crusade.

Representative Hyde's well-documented 1995 book,

Forfeiting Our Property Rights

, revealed the "the hoary doctrines of Anglo-American civil asset forfeiture law that have been resurrected like some jurisprudential Frankenstein monster, from the dark recesses of past centuries." His introductory chapter continues: "In my view, a drug 'war' has been perverted too often into a series of frontal attacks on basic American constitutional guarantees – including due process, the presumption of innocence, and…unrelenting government assaults on property rights, fueled by a dangerous and emotional vigilante mentality that sanctions shredding the U.S. Constitution into meaningless confetti."

Although most known for the Hyde Amendment that banned federal funds for abortions in 1976, former Representative Henry Hyde also introduced another so-called "Hyde Amendment," enacted in late 1997 as an important safeguard against abusive prosecution. This Hyde Amendment has been hailed as a victory for defendants' rights, and a timely response to abusive acts of government officials. The House overwhelmingly passed Rep. Hyde's rider to the final 1997 Department of Justice appropriations bill, now codified as 18 U.S.C. § 3006A. The 1997 Hyde Amendment brought "a measure of sunshine" and "a measure of judicial oversight," into a courtroom forum "far removed from the catacombs of DOJ's internal review processes," where issues of abusive prosecution had "heretofore been confined, and many would say, swept under the rug."1

The 1997 Hyde Amendment allows federal courts to award attorneys' fees and costs to criminal defendants (who were not represented by assigned counsel paid for by the public) "where the court finds that the position of the United States was vexatious, frivolous, or in bad faith, unless the court finds that special circumstances make such an award unjust." Fees and other expenses awarded under this provision must be paid by the offending agency (most likely the U.S. Attorney's Office) through the established procedures of the Equal Access to Justice Act (EAJA), which provides similar awards against the government in civil suits. Hyde's original wording followed other EAJA provisions that apply to civil litigants who "substantially prevail," but cries of "the sky is falling" from the DOJ resulted in the "vexatious, frivolous, or in bad faith" limitations in the final law.2

Cases involving astonishing prosecutorial misconduct in which defendants have been awarded large attorneys' fees pursuant to this Hyde Amendment include

United States v. Holland

, 34 F.Supp.2d 346 (E.D.Va., 1999), in which Richard Holland, Jr., an officer of the Farmers Bank of Winsor, criticized the FDIC in a letter to the Regional Director of the FDIC. The Regional Director used the power of his office to commence a campaign of harassment and persecution against Holland and his father, who happened to be a Virginia State Senator. As Judge Morgan explained in the court's order: "On December 7, 1991, one month to the day after the Holland, Jr. letter, a team of FDIC investigators . . . appeared at the bank and began an investigation, the aftermath of which lasted until April 16, 1998." (Id., at 348).

Judge Morgan also forcefully attacked the U.S. Attorney's Office for its puppet-like support of the FDIC Regional Director's personal vendetta. "The Prosecution expanded seven questioned loans and the bank's response to the FDIC's questions into fifty-seven criminal charges . . . . The duplications in and excessiveness of the indictment violate the Department of Justice's own guidelines." (Id, at 367). He found that prosecutors relied upon evidence "which it knew the FDIC deemed insufficient to pursue civil monetary penalties." Concluding that "the enormous power invested in prosecutors and government agencies may not go entirely unchecked" (id., at 360, n. 24), and that "the totality of the FDIC conduct which led to its criminal referrals was vexatious", Judge Morgan awarded $570,668 in fees and expenses (two-thirds assessed against the Department of Justice and one-third assessed against the FDIC). The April 5, 1999 edition of Punch & Jurists Weekly Newsletter [http://www.fedcrimlaw.com/visitors/punchltd/1999/04-05-99.html] describes Judge Morgan's decision as "a veritable guide to actions under, and the elements of, the Hyde Amendment, which could become a potent weapon in helping to control prosecutorial excesses and abuses."

In

U.S. v. Aisenberg

, 247 F.Supp.2d 1272 (M.D.Fla. 2003), a federal judge awarded a record-setting $2.9 in legal fees and expenses to Marlene and Steven Aisenberg under the Hyde Amendment, for the government's "misdirected and overzealous prosecutorial exertions," which included fabricated evidence against the parents of a missing five month old daughter. When the Aisenberg's attorney, Barry Cohen was asked why law enforcement fabricated the case against the Aisenbergs (who had cooperated with police, prosecutors and investigators in every way as soon as their baby was missing), Cohen stated that he did not blame the police in particular, but that the whole system had been pressured to successfully prosecute after the Susan Smith and JonBenet Ramsey cases:


"This case is indicative of a problem in this country that we need to realize exists. When we have police officers making a case and fabricating evidence, as the judge found in this case; when we have prosecutors telling a judge untruths about existence of facts on tapes, we have a serious problem. What do people do in this country who can't afford lawyers like us to pursue this the way we did? They're framed and they go to jail daily."





Thank-you, Henry Hyde, for your own "willingness to do the difficult things necessary to persuade Congress to act," as well as for your work with FEAR in awakening America to the reality that "our treasured liberties are at stake," and the "grave extent to which our constitutional protections have been violated and diminished in recent years."




Endnotes:

1. "The Hyde Amendment: Congress Creates a Toehold for Curbing Wrongful Prosecution," by Elkan Abramowitz (former Chief of the Criminal Division in the US Attorney's Office for the Southern District of New York) & Peter Scher, of Morvillo, Abramowitz, Grand, Iason & Silberberg,

New York Law Journal,

January, 1998, reprinted by the NACDL .)

2. "The Hyde Amendment: Congress Creates a Toehold for Curbing Wrongful Prosecution":

...In opposing the Hyde Amendment, DOJ raised other concerns which paradoxically illustrated just why such a bill was crucial to the fairness of our justice system. DOJ argued, for example, that the amendment would force prosecutors to make decisions "with one eye on their office budget," presumably because awards under the law must come directly from the appropriations made to the prosecuting offices that initiated or maintained the unjustified prosecutions. Further, in a startling bit of hyperbole, the Justice Department argued that "[p]lea bargains that save time and put criminals behind bars could become a thing of the past."13 The Department of Justice seemingly was substituting its own vision of expediency for a fair system of justice. After all, it can hardly be disputed that defendants should not be encouraged to plead guilty to meritless charges solely to avoid the economic expense of a trial.