---

---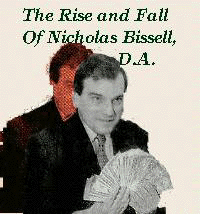 The Rise and Fall
of Nicholas Bissell, D.A.
[links updated 8/20/01 by Leon Felkins]

---
Until recently, Nicholas Bissell was the District Attorney in Somerset County New Jersey. On Friday, May 31, 1996, he was convicted on all 30 counts of his federal indictment, two of the counts involving official misconduct in relation to the forfeiture of property from James Giuffre. Judge Alredy J. Lechner, Jr. denied bond for Nicholas Bissell, saying "the conduct of Mr. Bissell is contrary to trustworthiness. I'm not going to grant bail at this point. I'm not satisfied I can trust him to appear for sentencing."

The charges against Bissell included a wide variety of fraud, as well as professional misconduct and corruption and threatening to have cocaine planted in the car of man with whom he had an argument.

Bissell was also convicted on both counts of the official misconduct charges involving forfeiture victim James Giuffre. Bissell was convicted of committing perjury in the separate civil suit filed against him by Giuffre, and of ordering subordinates to destroy Giuffre's written request for a lawyer.

Bissell's accountant and codefendant, Thomas Wagner, who conducted the state-required audits of Bissell's accounting records for the forfeiture funds, pleaded guilty on April 8, 1996 to helping Bissell and his wife evade income taxes.

John Paff -- FEAR founding member and current Board member and New Jersey coordinator -- first uncovered hanky-panky surrounding Bissell's handling of forfeiture funds in 1992. John Paff kept on Bissell's trail -- and on that of the accountant Thomas Wagner -- until they were indicted.

On November 13, Nicholas Bissell, former D.A. of Somerset County, N.J., was scheduled to be sentenced on 30-counts of his federal indictment, 3 of the counts growing out of his official corruption in the handling of James Giuffre's forfeiture case. His sentencing was postponed.

On Monday, November 18, 1996, Bissell removed his electronic ankle bracelet and became a fugitive from justice. Authorities conducted a nationwide man hunt, and tracked him down to a casino hotel room in Laughlin, Nevada. At around 1:30 on Tuesday, November 26, U.S. Marshalls surrounded the room and tried to persuade Bissell to surrender. Bissell put a gun in his mouth and shot himself to death.

The November 13, 1996 F.E.A.R. Radio Hour show on the "Rise and Fall of Nicholas Bissell," featuring John Paff and James Giuffre, was our best yet, according to our talk show host Paul Dinsmore. Audio tapes of the show are available for $10 from KHNC at 1-800-205-6245.

Here's our collection of information about Bissell and his cohorts.

---
Last updated December 14, 1997
"Bissell Guilty", FEAR-List Bulletin by John Paff, May 31, 1996
"Jury in New Jersey Finds Ex-Prosecutor Guilty on 30 Counts," by Robert Hanley, N.Y. Times metro section, June 1, 1996.
Bissell's Accountant Pleads Guilty, FEAR-List Bulletin 4/26/96
"New Jersey Forfeiture King Indicted", by Peter Gorman, reprinted in FEAR Chronicles newsletter March 1996)
Justice For Sale In New Jersey?: Victim Story of Isaac Wright, prosecuted by NJ's Nicholas Bissell, FEAR-List Bulletin, 10/15/95, posted by John Paff
Bissell on Channel 2 in New York, FEAR-List Bulletin, 10/2/95, posted by John Paff
Bissell Indictment Owes Much to Work of John Paff, FEAR-List Bulletin, 9/29/95, posted by Brenda Grantland
Bissell Charges Discussed in Letter from U.S. Attorney's Office, FEAR-List Bulletin, 9/28/95, posted by John Paff
U.S. Attorney's Office Press Release: Somerset County Prosecutor & Wife Charged In 33-Count Federal Indictment, Newark, NJ U.S. Attorney's Office, September 28, 1995, press release re: indictment of Nicholas Bissell
NJ Prosecutor Nicholas Bissell Indicted!, FEAR-List Bulletin, 9/28/95, posted by John Paff
Nicholas Bissell In the News Again, (re: James Giuffre lawsuit), FEAR-List Bulletin, 9/18/95, posted by John Paff
Prosecutor Suffers Seizure!
F.E.A.R. List Bulletin, 7/8/95 by John Paff, (NJ Prosecutor Nick Bissell may become forfeiture victim himself, thanks to John Paff's relentless pursuit of alleged hanky panky in Bissell's handling of forfeiture funds.)
NJ Forfeiture Victim Fights Back, posted by John Paff, condensed from F.E.A.R. List Bulletin, 6/11/95 (story of forfeiture victim James Guiffre)
---