---





---
Is There A Hole
Where My House
Used To Be?
The story of Jackie Kubinski
and her family
as told by Jackie Kubinski,
edited by Kathy Bergman
---
Illustration by Adam Kubinski, age 7, who prays every night that his family will be reunited soon, and go back to live in their own home, and eat at their own table.
---
Last update December 20, 1996
The Jackie Kubinski story
FEAR-List Bulletin, 6/3/95,
introduction by Kathy Bergman
Today mail came from Jackie Kubinski. She sent me a packet to be passed on to the Human Rights 95 (HR95) committee that is putting together a presentation that will be displayed the last week in June [1995] here in San Francisco, as a means of focusing on human rights abuses taking place in the U.S. in conjunction with the 50th anniversary celebration of the United Nations, going on simultaneously in San Francisco.
Jackie and I have corresponded, so I knew her story, but I was not prepared for the impact reading it again would have on me. In fact, I broke down and cried for her, her husband and especially her children, as I read through her hand-written pages. Jackie included pictures of her family, some taken before she and her husband were sent to prison, some taken during visits their children made to the separate prisons to visit Mom and Dad. And one, was of her son, during his time in the orphanage the children were sent to for four months after Jackie and Kenny were sentenced. They are now living with a family that attends Jackie's church and are able to visit her regularly and their father occasionally, since he is so much farther away.
Jackie is a very attractive, well-groomed woman with long blonde hair; Kenny is also blonde, tall and lean; the three children are of course "towheads. In the pictures of them with their parents in their respective prisons, the children are all "holding" Mom and Dad.
Because I believe we all need to be impacted by this family's story, I am going to type in the major portion of Jackie's words here. This is long. While you are reading this, remember, there are many, many other families going through this exact same thing. Somehow, this has got to end.
-- Kathy Bergman, Member, F.E.A.R. Board of Directors

---

Jacquelyn Kubinski, 35 years old
14429-056 (HW)
Butner Prison Camp for Women
Butner, NC
Conspiracy to distribute cocaine, hashish and marijuana
78 Months (6 1/2 years) prison time

Kenneth Kubinski, 47 years old
UFM-14425-056
Atlanta Maximum Security Pent.
Atlanta, GA
Sentenced to natural life

Children: Adam - 7 years old
Katie - 5 years old
Ariel - 4 years old

My name is Jacquelyn Kubinski. I am 35 years old. I have been married and a homemaker for 8 years; and a mother of 3 children who were all under the age of 6 at the time of trial (May 16 - June 9, 1994).

I graduated from the University of Georgia in Athens, June 1985, with a B.S. degree in Early Childhood Education. I also graduated with an A.A.S. degree in Information Processing from Valdosta State University, Georgia, in 1983.

January 15, 1993 the Government Drug Task Force came to our house at 7:00 a.m. and said the government was seizing all property, personal and corporate. The American dream was snatched away from us, and this was only the beginning of a nightmare that still continues. No drugs were found and no arrests were made at the time the property was seized.

The government alleged that my husband had acquired his business with drug proceeds and used the business to launder money. The D.A. threatened my husband by saying that unless he cooperated in pursuing other targets of the government agents' interest, he (the DA) would put me and other family members in prison. The DA was in effect asking my husband to commit fraud and perjury against others. This was unthinkable, and our only other choice was to fight this matter in court.

After the seizure, but before we were arrested, the government agents did everything they could to prevent us from hiring a lawyer. My husband and his two brothers continued working their construction company but when the company made money to pay bills, the money would be seized by the IRS from the corporate account; and our family had to sell all the company's equipment and ask both families for money to hire an attorney. We are presently destitute.

On April 30, 1993 we were arrested. I was charged with misprison of a felon and money laundering. Then, a few months later they had a superseding indictment and dropped the money laundering charge and added conspiracy to distribute cocaine, hashish, and marijuana. (At trial, the misprison of a felon was dropped and I was then charged with one count of conspiracy to distribute . . .)

The trial started May 16, 1994; in which numerous paid witnesses (prison time dropped or did no prison time at all) who say your name, drugs and money all in the same breath -- makes it possible for the government to convict anyone.

We were sentenced November 15, 1994. I was facing a mandatory minimum of 15 years in prison. The judge departed me out of the mandatory minimum and sentenced me to 78 months in prison and 5 years probation. My husband was sentenced to natural life. (The vindictive prosecutor threatened that if either one of us appealed our case he would appeal my sentence to 15 years -- and to date my attorney told me May 25, 1995 that the prosecutor has put the paperwork in to increase my time in prison.)

After trial, our attorneys immediately put in for the notice for an appeal at our request.

I began serving my sentence on November 15, 1994. Our children were put in an orphanage until friends from our church asked for custody to raise them in their home.

I am presently in a prison camp for women in Butner, NC.

The greatest detrimental effect is not being able to contribute our time to our children. The effects have especially been devastating for our children.

I and the other defendants were handcuffed and shackled and sent straight to jail after the conviction. I was in total shock -- knowing just a few hours before I had kissed my son goodbye as he went to kindergarten and my girls as we left them with the babysitter.

From the jail I called my minister and he told me to say this verse over and over "In quietness and in trust is my strength, O God". I said it over and over all night long. I could not think of my children or tremendous pain would be felt in my stomach so I just filled my mind up with this verse. I shook all night as though I was freezing.

After 2 days that I and their father did not come home, close friends and family told our children where we were (my husband and I were emotionally unable to even talk with them on the phone.) They did not understand. Our children were enduring all the stress we were going through also.

The 7th day the judge allowed me to be released to make plans for my children before sentencing.
My children had felt I was gone forever, and thought their father was dead, even though by this time they had spoken with us both. When I got home we all cried. Adam was angry and afraid of policemen.

From the time I came home til sentencing, my children did not want me to leave their sight -- when I did do errands without them, my little girl Ariel, who sas 3 years old, would cry and say, "Mommy, I need a picture of you so I won't forget what you look like". This made me realize that whenever I left she was afraid I might not come home -- it was very hard for me to leave them even for a short time.

My son started first grade before we were sentenced and was so angry that his Dad was in jail he told his teacher he wanted to be thrown out of school and refused to do his work. I saw a counselor at the time and he suggested things for me to do, which helped. My son became easily frustrated and it became difficult for him to make decisions. No matter how many times I told him we were working on this problem and the lawyers were working to help, he continued to be burdened by it all and was constantly trying to think of ways to help. He would start off saying "I know how we can make money to pay the lawyers . . ."

After sentencing, my children stayed during the Thanksgiving holidays with a dear friend of ours whom they love, then went to the Oxford Home for Children. Our friend, Gaye, said this about them:

"Adam got depressed, hopeless, angry and afraid. He started wetting the bed. His body would get rigid and sweaty. He would cry and say his head hurt, he felt funny and sick." Gaye packed them up to go to the children's home and their emotions were all tangled up and they would just hit each other. Adam would get so mad because he couldn't do anything to help get his Mom and Dad out of jail. He would cry, lock himself in the bathroom, and cry more.

"I'm just mad cause my Mom and Dad aren't here and we aren't at our house."

On Thanksgiving Day, Adam cried, "I just want my own Mom and Dad and my own turkey and my own table."

---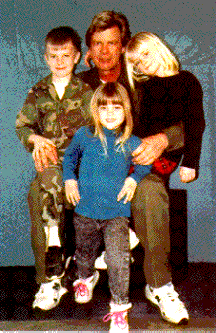 Ariel would silently cry and say "I'm my Daddy's little princess" (her Dad would call Katie and Ariel his little princesses).
Katie and Ariel's bodies would jerk in their sleep.
---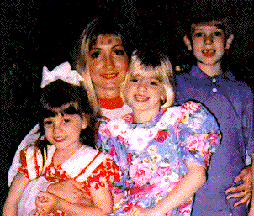 ---

They did not do well at the children's home -- too many children and no one to talk with them about their feelings. They were at the children's home from Dec. 1994 - Feb. 10, 1995.

Adam would tell friends and family to just get him out, he would cry, his heart would race, his face would get red and his stomach would hurt. He could not sleep by himself.

Ariel and Katie would ask: "When are you going to come and get me?"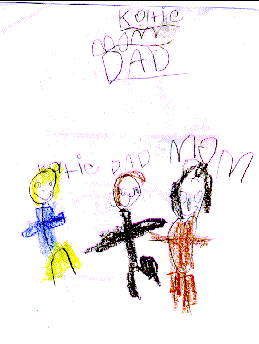 ---

Adam asked "Is there a big hole where my house is?" (The government took our home and property.)

The only picture Ariel had of me and Kenny when she went to the orphanage was the picture from the newspaper. A little boy in their cottage took the picture away from her -- she started screaming and crying and Adam fought for the picture back.
---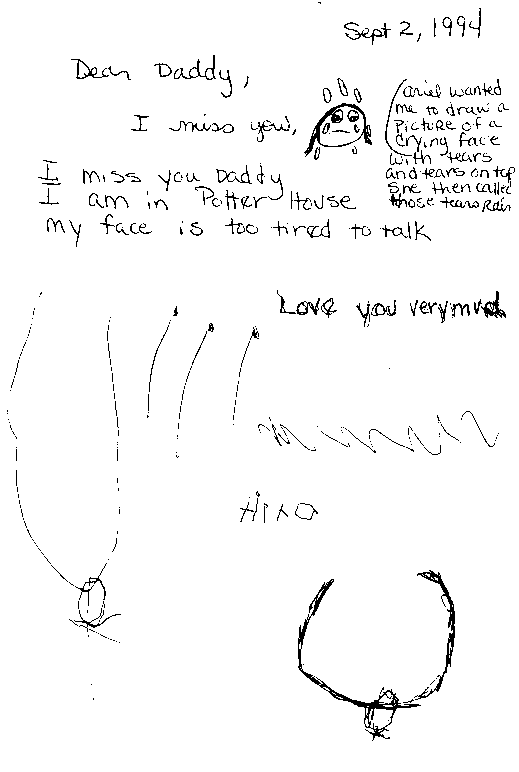 The government destroyed our family systematically in less than a year's time. Our children survived on their own.
Adam still tries to think of ways to help, even asking his Aunt Jeanie if he can make copies on the copy machine, thinking this might help Mom and Dad come home. He even talks about writing the Judge.
Thank you for asking me to help in this project. I know I am sending more information than you probably expected -- I could have written many more pages about this nightmare. I hope some will be help.
-- Jackie Kubinski
---

Jackie's Kubinski's Victim Story in ASCII,
FEAR-List Bulletin, 6/3/95, with intro by Kathy Bergman
---