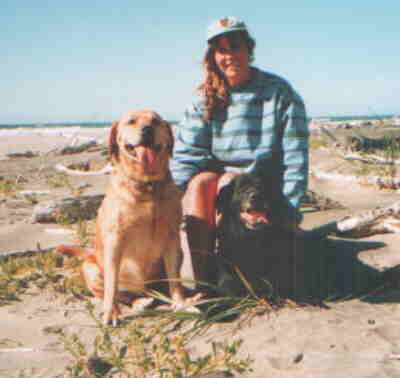 Sunni's Page:

---
How to
survive
forfeiture
---
Sunni is FEAR's victim coordinator, and a forfeiture survivor herself.
Forfeiture victims can write Sunni and the victim support committee at victims@fear.org.
---
Good Morning Sunshine
- by "Sunni" Liston
So I've always wanted to be a writer...and now FEAR has given me a forum. It was easier when writing was just something that I always wanted to do. A lot of things were easier for me several years ago. I didn't know what it was like to be awakened to a police raid of my home. I didn't know how it felt to have my life turned completely upside down. I had never known the feelings of being out of control of my own destiny. Well, almost out of control. I have sat in the driveway of what I consider my dream home crying, facing the fact that I was in danger of losing it all.
I have been afraid to talk on the phone, fearing that, once again, the taps and monitors were in place. I have looked into the eyes of people who I have befriended and wondered if they are informants. The most important part of my story is this... They never had the power to take what I needed to survive. I am convinced that had I not found FEAR at the time I did, my life would still be in a tailspin. Or in fact, I might have hit bottom by now. Yes, life was a lot easier, but it's not so bad now. In fact, life is a lot better these days. The appreciation factor of course is there. (You don't appreciate something until it's almost gone.) I have chosen to get past the fears and most of the bitterness and focus on some of the benefits of a fight such as ours.
One of these benefits has been awareness. Government has lost its ability to ever blindside me again. I no longer read the news and believe the written pages. I no longer assume the guilt of those I see arrested. I have learned to open my eyes and see a story other than the one that the government and the media want me to see.
Another benefit has been the respect and love my husband and I realized. It might have taken fifty years or more of togetherness to gain what we did in those two long years. We know what it is to join hands and walk over hot coals. Now we join hands and walk through our yard, appreciating its beauty. They wanted to take it all. They almost got the possessions, but
they could never have broken the chain of hands. Our hands, the hands that reached out from family to believe in, and support us, the hands of FEAR with the emotional support and advice that helped us over the coals.
My life now has become my greatest revenge. I live and love so very freely. I walk on the beach with my dogs. I know the happiness of good friends. I can sleep at night. The financial problems they caused us faded; the strength we found prevails.
My strongest desire is to give back some of the hope I was given. I wish to reach out to others with hands strengthened by this fight. I am offering my hand into the chain. Reach out . . . to give or to receive help. Either one makes the chain stronger.
Blue Skies,
Sunni

---